Nursery
Welcome to our Nursery page, we like to be called Ladybirds!
Morning session is 8.45am - 11.45am. Afternoon session is 12.15pm to 3.15pm
Please click here for an application form for Nursery.
Diary Dates:
3rd September - TD Day
4th to 6th September - Home visits
7th September - Paperwork review day
10th September - Back to school
27th September - School photographer
24th October - Nursery closed for Parent Meetings
29th November - Nursery closed for teacher training
6th December - Nativity Play
14th December - Christmas Fayre
21st December - Last day of term 2
7th January - TD Day
8th January - First Day term 3
More dates to follow
On Mondays we go to the forest for Muddy Mondays - If you have some wellies please bring them in.
On Wednesdays you can stay and play for half an hour after you drop your child off to see what they are learning.
On Thursdays we will be going to the school hall for our weekly PE session.

Oaktree Ladybirds @OLadybirds
18 Dec 2018 Another lovely day at Kidz About. Here we are all waiting for our lunch. https://t.co/EvNCLnUkdN
18 Dec 2018 Bellies full. Off we go again. 😀
17 Dec 2018 https://t.co/yjl5PHjh85
17 Dec 2018 We are all having a lovely time at Kidz About.
19 Nov 2018 We shared our snack with the bear. It was yummy😀 https://t.co/u2AbbaZAdd
Term 1
Week 1:
Our teachers came to visit us at home to talk to our families and learn all about us. On Friday some of us came back to Nursery to see our old friends and play with our favourite toys.
Weeks 2 and 3:
We will be learning about Goldilocks and the 3 bears. We will be making masks and acting out the story. In maths we will be using the language big, medium and small to compare different objects.
What a lovely two weeks we have had. The children have been making bear masks, playing with porridge and learning about size.
We have had our first trip to the woodland area, where we explored the pond, shaded pathways and collected nuts for Suzie squirrel.
Our first PE in the hall was full of energy. We moved in different ways and learnt to start and stop on the whistle!
Our favourite song for the fornight has been;
When Goldilocks Went To The House Of The Bears
When Goldilocks went to the house of the bears
Oh what did her two eyes see?
A bowl that was huge, a bowl that was small, a bowl that was tiny and thats not all,
She counted them one, two, three.
The next verses follow the same pattern but with chairs and beds.
When Goldilocks ran from the house of the bears
Oh what did her two eyes see?
A bear that was huge, a bear that was small, a bear that was tiny and that's not all,
They growled at her grrrr, grrrr, grrrrr!
We will also be using Twitter, as of next week. Please follow us on @OLadybirds
Weeks 4 and 5
We continued our theme of traditional tales. This week we learnt about The Three Little Pigs and the scary wolf. The children retold the story using the ligt box and story board. We had masks ready to act out the story.
Whose house will be the strongest?
Mrs Hooker had the straw ready to build the first house, we collected sticks from the forest for the second house, and we had bricks already to make the third house.
It was lucky the school is made of bricks, so the big, bad wolf can't blow our school down!
Week 6
We learnt the story of the Three Billy Goats Gruff. Outside we experimented by building bridges for the three goats to walk across.
We made goat masks so we could retell the story.
In the woodland we looked for autumn things and stuck them to a headband.
Week 7
This week at our school it is History Week. We are learning about Beatrice Potter. We have been reading the story of Little Peter Rabbit.
We made bunny ears using cardboard and cotton wool. We learnt the song Little Peter Rabbit has a fly upon his nose. We performed the song wearing our bunny ears and Mrs Hooker recorded it on an ipad to show our grown-ups. We were fab!
Term 2
Week 1
Welcome back to Nursery.
This week we have been talking about what we did during the half term holiday. It sounds as though you all had lots of fun, especially during Halloween.
We have been learning about the Funnybones story and have learnt the Funnybones dance.
Week 2 and 3
For the next 2 weeks we will be learning the story 'We're Going on a Bear Hunt'. So far, we have taken our teddies for a picnic in the woodland area and been on our very own bear hunt. As you can see from our Twitter account we found a bear!
To celebrate Children in Need, we all got dressed up and had a party in Nursery to raise money for Pusey Bear. We made some lovely cakes and had our face painted.
Meet the Team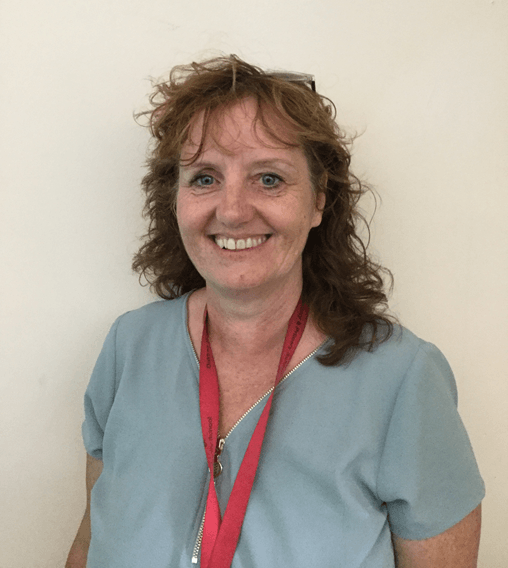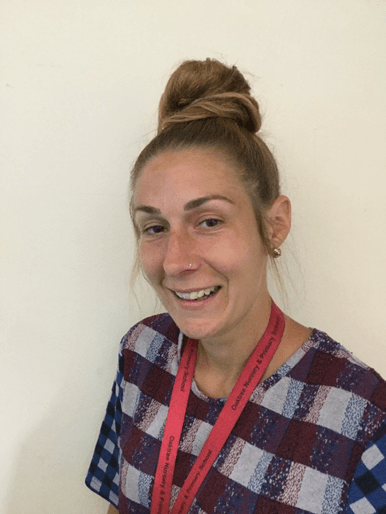 Mrs Hooker Miss Anita Miss Sabat
Nursery Teacher Room Leader Teaching Assistant